There's no evidence that antibacterial and antimicrobial products do a better job than regular soap at home. In fact, the overuse of antibacterial ingredients such as triclosan can contribute to the creation of "superbugs." Our obsession with germs could make us sicker.
Here are some helpful tips and recipes to protect yourself in a healthy way.
Shop smart:
Avoid products labelled "antibacterial."
Avoid triclosan in ingredients listed.
Avoid perfume (also called fragrance). Some ingredients in fragrances can trigger allergies and asthma attacks in those with scent sensitives. Some are harmful to fish, wildlife and plants.
Choose products that have ingredients listed (especially household cleaning products).
Choose products with environmental certification labels like EcoLogo or Green Seal.
If you live or work with children, non-toxic disinfectants are even more important. Children absorb chemicals much more than adults. They're close to the ground, have "exploratory instincts" and put everything in their mouths!
Avoiding toxic chemicals
Accumulation of toxic chemicals inhaled, ingested and absorbed through skin every day is called "body burden." Follow these simple tips to unburden yourself, your family, your home and your workplace.
DIY recipes that kill germs
Creating your own hand sanitizer and washing with diluted castile soap is a great way to know exactly what's in your products and save money.
Hand sanitizer
Time to make: under five minutes
Shelf life: shouldn't expire
60 ml (4 Tbsp) pure aloe gel
125 ml (½ cup) grain alcohol (e.g., vodka) or rubbing alcohol
5-8 drops tea tree or thyme essential oil
Mix and store in a squeeze bottle. Optional: add 30 ml of vegetable glycerin to combat the alcohol's drying effect.
Note: Although alcohol-based hand sanitizers work in a pinch, washing hands with soap and water is even more effective. For COVID-19, health authorities recommend using hand sanitizer with at least 60 per cent alcohol — but even that won't work well on visibly dirty hands. Boost this recipe by reducing aloe to 30 millilitres and choosing rubbing alcohol.
Liquid hand or body soap
Time to make: under five minutes
Shelf life: about six months
In a soap dispenser, add:
187.5 ml (¾ cup) water
62.5 ml (¼ cup) liquid castile soap (unscented or scented with essential oils)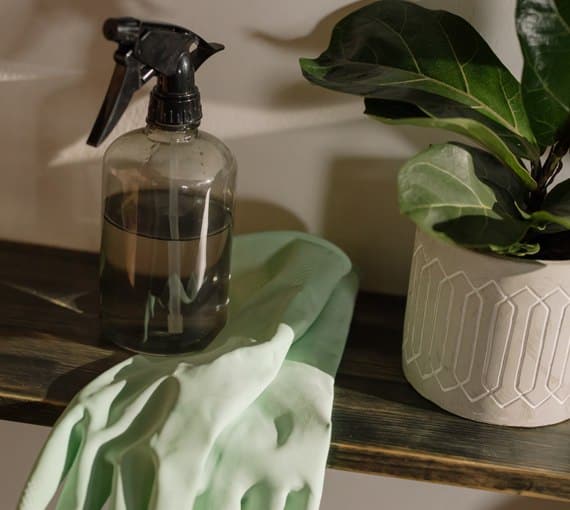 Non-toxic disinfecting
Go beyond disinfecting your body. Learn more about how to safely disinfect your home or work space, shop for non-toxic disinfectant products and why it's important.
Sign up for Living Green emails
Get tips and resources to live sustainably. Join the growing green living community.