Fact: You have no idea what's in your home cleaners.
Canada does not require warnings about chronic health and environmental hazards from chemicals in cleaning products.
That's troubling because most of us are exposed to cleaning products and their residues every day.
Some contain harmful chemicals linked to cancer, reproductive disorders, asthma and severe allergies. Symbols, such as the skull and crossbones, warn about acute hazards. Labels include words such as "poison," "corrosive" or "irritant."
In 2012, some 10,500 David Suzuki Foundation supporters took our home cleaners survey. They entered information on labels for more than 15,000 products! But only 42 per cent of those displayed a full list of ingredients. And many lists were confusing.
Product manufactures aren't required to list ingredients. Some disclose them voluntarily.
The best solution? Make your own — all-purpose cleaners, dish soap, liquid laundry soap and glass and mirror cleaner! And shop smarter.
What to look for on home cleaner labels
01
Eco-certification
Look for a third-party certified eco-label, e.g., EcoLogo, Leaping Bunny, Green Seal and/or EcoCert 
02
Biodegradability
Check the official biodegradability designation, e.g., biodegradable test OECD 301 D or E
03
Ingredient list
Ensure there is a complete, specific ingredient list with full disclosure of chemical names, including what's in "parfum" or "fragrance".
04
Contact information
Has the company provided their contact information?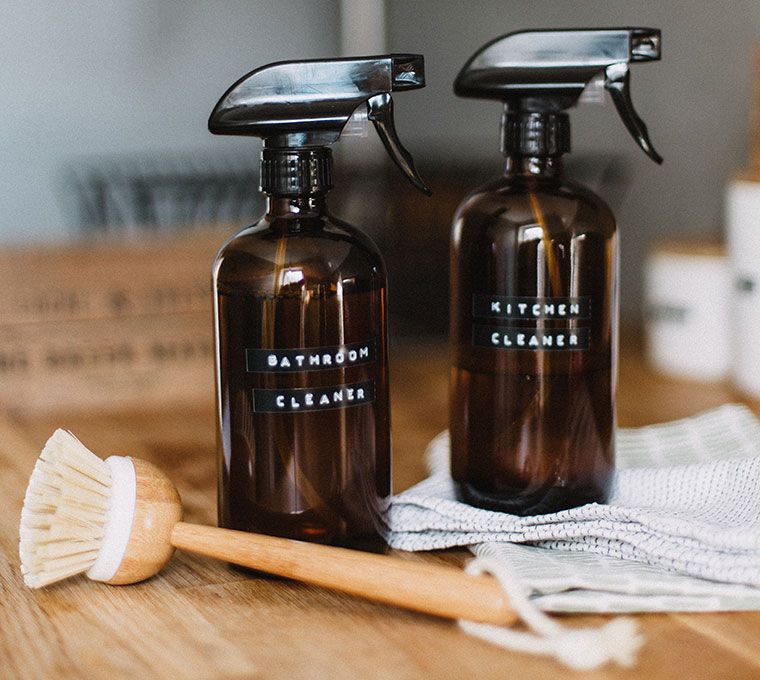 Tip
Aspiring to be zero waste and recycle less? Source the eco-friendliest store-bought cleaners from a refill store.
What ingredients in cleaning products to avoid
Always AVOID these store-bought products:
Scented cleaners which may contain synthetic fragrance or parfum
Anti-bacterial cleaners which may contain triclosan
Coloured cleaners which may contain dyes.
What's the problem with synthetic dyes?
Dyes are often derived from petrochemicals and may be contaminated with trace amounts of heavy metals such as arsenic, cadmium and lead.
They may cause cancer. And heavy metals can harm the nervous system and cause other adverse health effects.
They can be absorbed through skin or ingested from soap residue left on dishes.
They're found in most types of cleaning products, from dish soap to window cleaner to laundry detergent.
Protect your health and the environment from unnecessary exposure to toxic chemicals in household cleaners. See our full list of recommendations.
Sign up for Living Green emails
Get tips and resources to live sustainably. Join the growing green living community.