Butterflyways are popping up across Canada, thanks to caring and dedicated teachers, parents, students and community leaders. Is your school ready to smell the wildflowers, create new habitat for pollinators and have fun?
Butterflyway benefits:
Establish important habitat patches for butterflies and local bees.
Create learning opportunities for students and the local community.
Help people connect with nature and one another.
A great complement to an existing school garden or outdoor classroom.
Local communities become greener and healthier (more vitamin "N" for nature).
Step 1. Find your people
To get buy-in, ask what's your school culture? Some teachers are keen to lead, write grants and train students. Or, it may be an engaged group of parents with a passion for gardening and time in nature. Try to contact:
Your school's Ecoschool, environmental or sustainability club representative.
A keen teacher (or two) can present the idea at a staff meeting.
A keen parent(s) can present to the Parent Advisory Committee.
Not sure how to find an teacher champion? Ask the principal for curriculum outcomes by grade and see who's covering life cycles, environment, biodiversity, community action, etc.
A team of three to four champions will serve you well. For long-term success, have a few people lead different aspects of the project; e.g., planting, organizing students, maintenance, etc. Build connections between parents, teachers, administration, students and nature-loving organizations. You'll buffer the project against staff turnover or families leaving the school if you diversify your team.
Tip: Buy-in from the school administration is essential. Consider selling it and creating it as a legacy project; e.g., Grade 3 students become stewards. This way, kids learn to anticipate changes and the program doesn't end with a teacher or parent leaving.
Step 2. Seek staff and school district support
Teacher participation in a Butterflyway project is voluntary. Many teachers appreciate parent guidance and support — offer educational resources, coordinate guest speakers and activities (e.g., make bug hotels or a bumblebee nest) or events.
Check with your local school board or district about their policies and programs around schoolyard planting projects and pollinator gardens. For example, some work may have to be done by the school board or district staff, like installing a split rail fence around the garden.
Ensure the facilities and landscaping crew at the school are brought into the conversation to prevent unexpected issues. They can help find the perfect location, and help with site preparation and water sources too.
Ask how often school board or district landscaping staff visits.
Many schools and boards/districts are excited to have parents lead!
School boards/districts can move at a slow pace.
Tip: School board/district staff love native plants because they are low maintenance!
Step 3. Choose a location
Factors to consider at school can vary slightly from those you'd encounter at home:
Observe how the school yard is being used. Choose a spot that won't get trampled (or can be protected). Mark, fence off or use a natural barrier to protect plants, especially as they establish the first couple of years. E.g., raised garden edging, cages for shrubs and trees, etc.
Where is your water access? This can narrow your options. (See more in Step 4 about watering.)
Is there a land-use plan for the school property long-term? E.g., don't plant where next year's basketball pad has been allocated.
Where can it be viewed, showcased and enjoyed by students and the larger community daily? E.g., don't place it in the middle of the school parking lot or on the school periphery (beware of some wanting it "out of the way").
Like any garden, consider soil conditions and exposure (sun and shade). Butterflies also benefit from basking sites, mud puddles and overwintering habitat.
Check for invasive species threats and challenges, and maybe incorporate their removal into your work.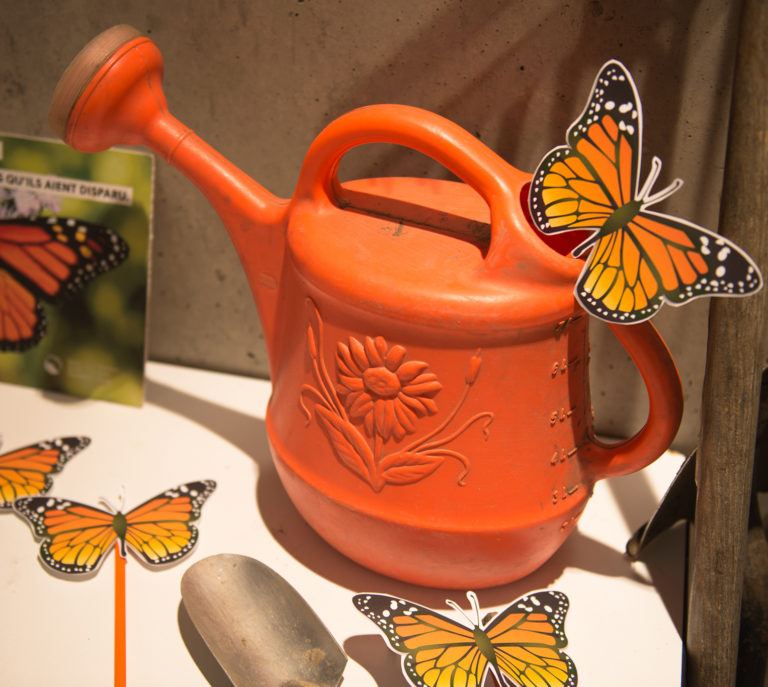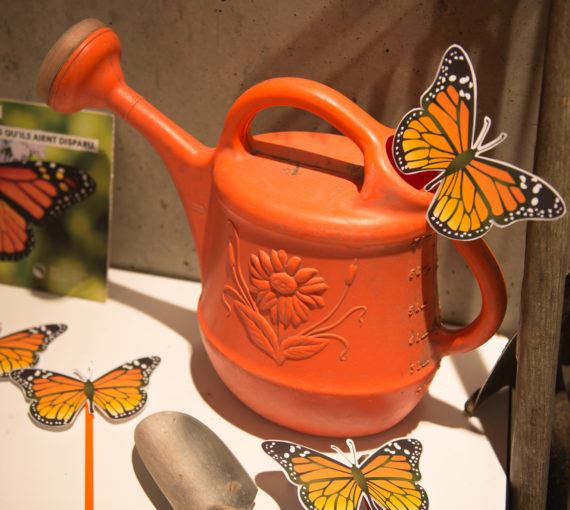 Step 4. You'll need water
This can be a challenge but it doesn't have to be:
Automatic micro and drip irrigation are best for year-round care. Tip: A great opportunity to open a dialogue and make a request with the school administration or board/district. Look into a grant for such a project as a long-term solution and investment.
Get a key from the school custodian, if needed (some taps are locked)!
Need to water by hand (hose and bucket)? Assign classes to be stewards by the week or assign a garden bed. You may need to purchase large hoses and water nozzles.
What about summer vacation? In the absence of an automated system, many schools rely on parent volunteers to sign up for a week or two during the holidays. You'll need a coordinator and a watering lesson before school breaks.
Consider the benefits of xeriscaping and rain gardens.
Make a bee or butterfly bath!
Tip: Planting native species in fall is a great way to reduce spring and summer watering needs because plants will be established.
Step 5. What to plant
Overall, seedlings tend to do better than seeds and offer immediate gratification, but they cost more.
Seeds, although fussier (challenging for a beginner gardener) can be planted outdoors in fall or started indoors in spring — and they're affordable.
A canoe?!
Step 6. How to raise funds
Apply for local, provincial or national grants geared to education and nature restoration. Some have open deadlines; others provide ongoing education and training support to students and teachers.
Ask parents for ideas regarding networks they're plugged into, or local business connections; e.g., garden or landscaping companies or lumber stores for supplies and gardening tools.
Many parent councils can set aside money to invest annually into the garden or help host a fundraising event.
Fundraise with seed sales (maybe for your already established garden, or contact a company specializing in local native seeds).
Seek in-kind support: Local businesses or universities and colleges may be looking for places to donate their mandatory hours of community service. Reach out to see if they could help with assembling garden beds or removing invasive species.
Step 7. What about signage?
Signage to acknowledge the purpose of the area and what activities are okay is important. (It can also stop people from pulling wildflowers because they think they are weeds!) A sign can also be a great conversation-starter and a way to share the story with the neighbourhood.
Check with your school board/district first. Some will only approve temporary signage. A permanent sign may need to be approved and installed solely by the school board/district and have specific rules about sponsorship logos.
Students can take part in sign creation!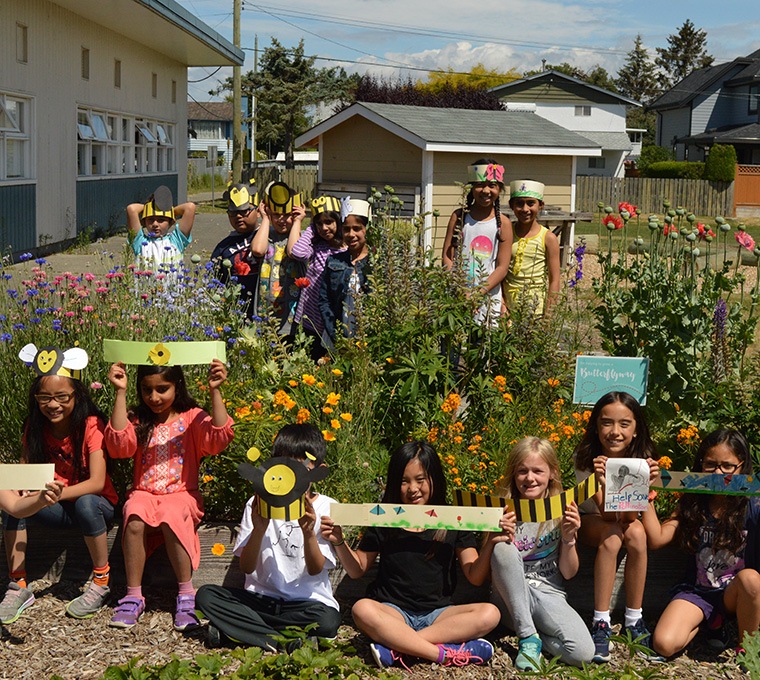 Step 8. Share the beautiful space created
Give tours of your Butterflyway to other classes, schools and local community groups like daycares, seniors' centres, etc.
Organize a special event — a celebration, picnic or unveiling during Earth Month or June's National Pollinator Week (June 21-27, 2020)!
Nurture a culture of gardening. Organize seasonal school-wide activities focused on the garden — adding leaf mulch, organizing a planting day, building more raised beds or holding an invasive species removal work party.
Take before and after pictures, documenting the garden through it's stages and the seasons. Share images and stories via school social media or in the monthly parent newsletter.
Thank you for taking another step to protect the natural world of which you are a part. You're not alone! Cities for spring 2020 include Calgary, Collingwood, Markham, Ottawa, Richmond, Richmond Hill, Scarborough, Toronto, Vancouver, District of North Vancouver, Victoria, Windsor, Winnipeg.
Sign up for Living Green emails
Get tips and resources to live sustainably. Join the growing green living community.