Engaging Economies of Change: Canadian Society for Ecological Economics 12th Biennial Conference, May 22-25, 2019
Published by: David Suzuki Foundation and partners
Partners: Canadian Society for Ecological Economics (CANSEE)

Climate solutions, Cities eco-assets, economics, climate change, natural capital, land use, conservation
Climate change, resource scarcity, deepening inequalities, volatile geo-politics and growing economic instability all threaten our wellbeing, now and in the future. These challenges require interdisciplinary economics research that is informed by real-world situations and creates useful solutions.
This conference explores the relationship between the economy, the environment and social justice in order to advance policy-relevant alternative economic models. The theme recognizes that many solutions already exist, and need to be understood and replicated. To accomplish this, partnerships between academics and front-line practitioners will be emphasized.
Watch the keynote livestream below.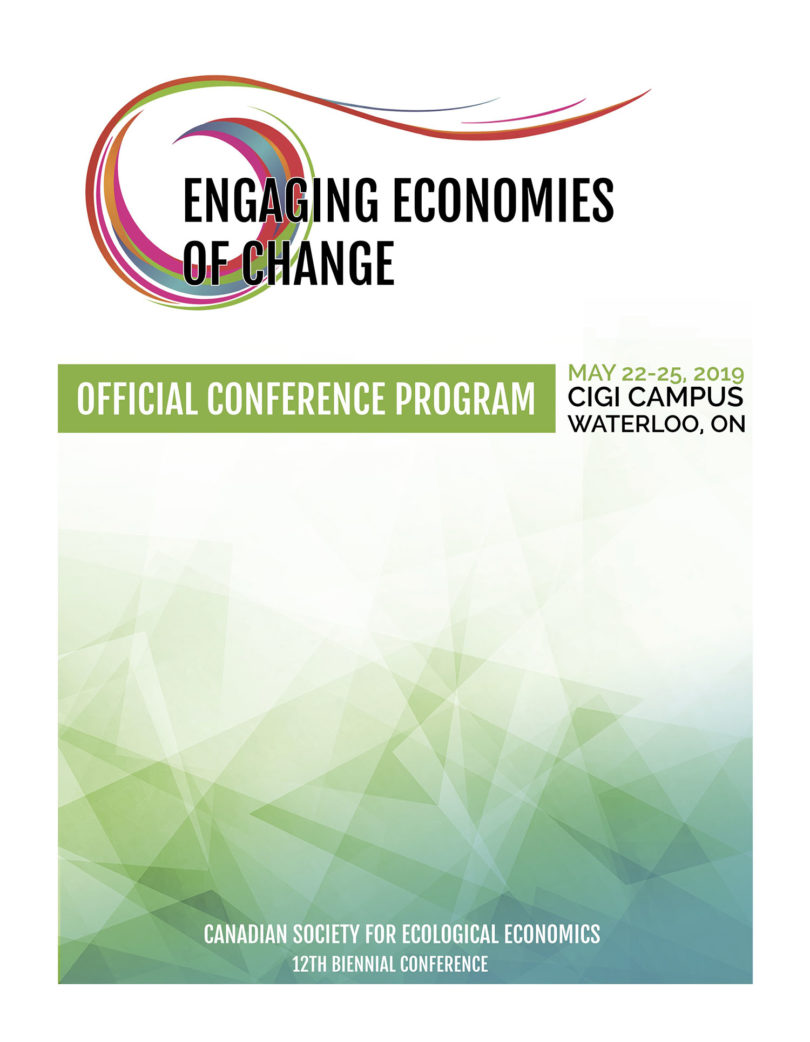 Keynote panels
Wednesday, May 22 — 6:30pm to 8:00pm EST
Introductory Lecture: Feminist & Indigenous Ecological Economics
Sustainability? Feminism? Equality? What do these ideas have to do with economics, and what does it mean to build an economics from the ground up based on these principles? This panel will consider how the tools of ecological economics, and research efforts of ecological economists, can directly benefit the important work of Indigenous communities who are on the front lines of climate change and extractivism in Canada.
Eriel Derenger, Executive Director of Indigenous Climate Action
Susan Paulson, Professor of Gender studies and Political Ecology at the University of Florida
Ronald Trosper, Professor of Indigenous Economics at the University of Arizona
Moderated by: Nico Kosoy, Associate Professor of Natural Resources Sciences, McGill University (& Next President of CANSEE) 
Thursday, May 23 — 9:00am to 10:00am EST
Ethics and Politics in Ecological Economic Practice
The challenges we collectively face are not merely technical, but are ethical, political, and cultural in nature. Members of this panel will outline the significant implications of ecological economics as a political practice, which must be incorporated into the work of scholars and activists alike. This demands radically alternative skill sets for how we know, think, and relate to one another and to nature in a post-growth society.
Jem Bendell, Professor of Sustainability Leadership at the University of Cumbria
Jessica Dempsey, Professor of Political Ecology at the University of British Columbia
Moderated by: Susan Paulson (opening keynote) 
Thursday, May 23 — 2:20pm to 3:50pm EST
Degrowth and Ecomodernism: Divergent Futures?
Will technology save us? Is it enough to invest in further innovation and free markets? Do we need to fundamentally rethink our relationship to technology, wealth, economic systems, and the rest of the planet we live on? Ted Nordhaus represents a leading think tank of techno optimists dedicated to engaging meaningfully with ideas counter to their own. Giorgios Kallis is the degrowth theorist most deeply analyzing and responding to the arguments for a techno-utopian future. Their conversation with each other won't be anything other than fascinating.
Giorgos Kallis, Degrowth Scholar at the Universitat Autonoma de Barcelona
Ted Nordhaus, Executive Director of the Breakthrough Institute
Moderated by: Katharine Zywert, PhD Student of Medicine in the Anthropocene 
Thursday, May 23 — 7:00pm to 9:30pm EST
Public Lecture: Economics for a Burning Planet
The United Nations Sustainable Development Goals (SDGs) were adopted in 2015 as a collective action plan for UN Member States to ensure a more peaceful and prosperous world by 2030. Sustainable Development Goal 8 focuses on building sustainable economic growth, ensuring decent work for all, and addressing labour market inequality. However, in the context of a finite planet experiencing climate breakdown, some experts see inherent inconsistencies in this goal. A particular point of conflict is the idea that economic growth is necessary to address the imbalances that exist in access to the market. This panel will explore alternative approaches to sustainability that address the desired outcomes of SDG 8, including the 'degrowth' movement.
Eriel Derenger, Executive Director, Indigenous Climate Action
Deborah McGregor, Professor, Osgoode Hall, York University
Leah Temper, Research Associate, Leadership for the Ecozoic, McGill University
Peter Victor, Professor Emeritus, Faculty of Environmental Studies, York University
Moderated by: James Boothroyd, Boothroyd Communications
Friday, May 24 — 9:00am to 10:00am EST
Financing the Transition
There's no two ways about it: a transition to a socially just low-carbon sustainable economy will be expensive. And business is often seen as standing in the way. Ralph Hall and Jennifer Clapp will discuss the complex dimensions of transitioning the industrial state.
Ralph Hall, Director of the School of Public and International Affairs at Virginia Tech
Jennifer Clapp, Canada Research Chair in Global Food Security and Sustainability UWaterloo
Moderated by: Joe Ament, Gund Graduate Fellow, Rubenstein School of Environment and Natural Resources, University of Vermont 
Friday, May 24 — 2:20pm to 3:20pm EST
Wicked Tensions of Transition
Members of this panel will tease out the 'wicked tensions' that persist between the biophysical and social realities of sustainability on a finite planet. Can the priorities of social justice advocates be achieved in the context of ecological overshoot?
Mario Giampietro, Complexity Researcher of Socioeconomic Systems  at the Universitat Autonoma de Barcelona
Katie Kish, Post-doctoral Researcher, Economics for the Anthropocene project, McGill University
Moderated by: Sam Bliss, Gund Graduate Fellow, Rubenstein School of Environment and Natural Resources, University of Vermont 
Saturday, May 25 — 9:00am to 10:30am EST
Green Politics and the Right: Possible Alliance?
Come hear the municipal government leader of a small rural Ontario county committed to eliminating poverty, achieving zero waste, and 100% renewable energy discuss the journey to making these commitments. Then Sociology Professor Stephen Quilley and the Ontario Green Party's Director of Outreach Paul Gregory will imagine a new political landscape: What would make (rural) conservatives and petrol-heads vote Green? Is there a way for Greens to ride the populist wave and escape the constraining binary logic of left(liberal) versus right? Hannah Renglich will discuss the dimensions of settler politics on occupied territories.
David Mayberry, Mayor of Oxford County
Stephen Quilley, Associate Professor of Social and Environmental Innovation at UWaterloo
Paul Gregory, Director of Outreach for the Green Party of Canada
Hannah Renglich, Learning and Engagement Manager, Canadian Community Economic Development Network
Moderated by: Jodi Koberinski, MES Candidate, University of Waterloo 
Saturday, May 25 — 4:40pm – 5:40pm
Non-market Non-state Communities of Care
Exploring the diverse extra-market economies and non-market logics that persist outside of relations of capital, we return economic study to the original meaning of oikonomia – management and care of the common home – and escape from the modern economics of market exchange outside the household. Members of this panel highlight care, commoning, and decolonizing.
Bengi Akbulut, Degrowth scholar at McGill University
Joe Mancini, Head of Kitchener's The Working Centre
Moderated by: Patricia E. Perkins, Professor, York U's Faculty of Environment